How-To Monetize your Content with your - EXISTING Customers and EXISTING Traffic!
For a limited time, I am also giving away these AMAZING BONUSES:
You spend hundreds or thousands of dollars on mastermind programs, seminars or on gurus/coaches who promise their help to take your business to the next level but that's only until you have parted ways with your hard earned cash or until the next shiny thing catches their attention... and you are forgotten!
I have been there...
I am NOT a 'Marketing Guru'. But I know my 'stuff' and I know it better than most!
I am the co-founder of one of the world's top membership plugins - DigitalAccessPass.com (DAP). I am also the pioneer of many upsell tools and wordpress plugins.
What I teach can be easily applied to your business because I break things down in simple and actionable steps!  I know what it takes to build a profitable sales funnel and a successful membership site, and also the exact tools and resources that will help you to do that. I have helped hundreds of clients monetize their online content and generate profits from their existing products, customers and traffic.
In this book, I have shared actionable upsell tips and strategies - little tweaks to your sales funnel will allow you to increase your profits by 30%, 50% or even double your earnings. You will also learn how I use upsells in my own businesses - using the tools that I have created - with great success! About 35% of my sales revenue is from upsells! If you are wondering "what to upsell", I have shared several new Upsell Product ideas as well!
This book is 'the answer' to all of your upsell questions:
How should I price my initial offer and my upsell offer?
Do upsells work better if priced higher than the core offer?
Maximize transactions or maximize profits at the point of sale (P.O.S) ?
Should I strip features to create a LITE version of my product?
Does low-cost trial work better than FREE trial?
Is annual subscription is more profitable than monthly subcription?
This is the one of the most comprehensive books on upsells. I have shared simple and easy-to-implement tips and strategies that will allow you to maximize profits, with your existing customers and existing traffic, without spending a fortune on online courses about how to sell more.
My book - Upsells Unleashed was an Amazon #1 Category Best Seller and it can be yours for just $4.99!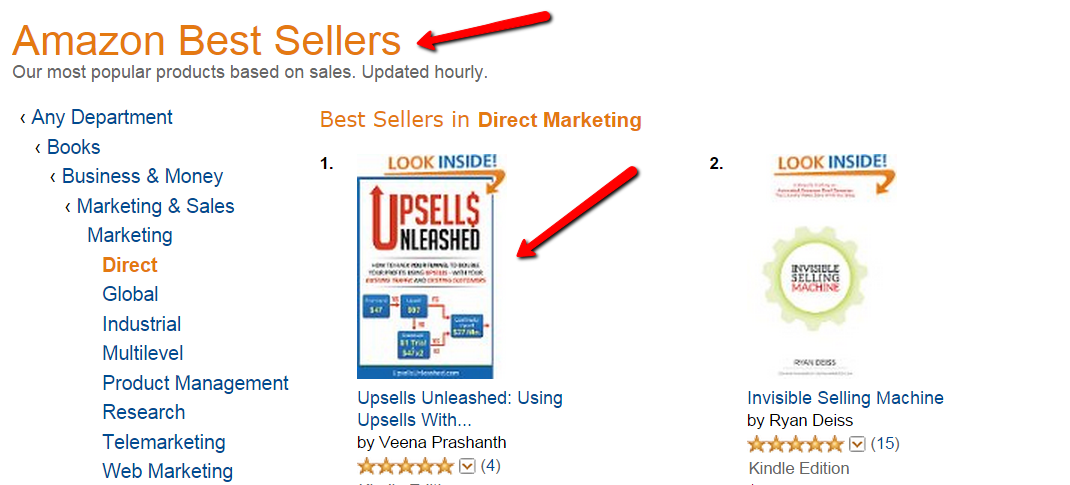 Start your own successful Upsell Journey with me!
You can get it from Amazon for $7.99 but I am going to make you an even better deal here!

Get Instant Access to my Amazon Category #1 Best Seller - Upsells Unleashed - for just $4.99 along with TWO Amazing BONUSES!
An Audio Version of the 'best chapters' from my book - Upsells Unleashed
Sample Email Templates that you can use for Book Pre-Launch/Launch
"In "Upsells Unleashed", Veena has effectively distilled the 'art and science' of upsells with real world examples and simple explanations. Extremely valuable are the descriptions on HOW NOT TO DO UPSELLS if you are concerned with providing long term value to your customers (the hall mark of a lasting business).

Beyond explanations, Veena has provided recommended flowcharts of how upsells can be used in a sales funnels as well as the tools that can be used.

As a side note: Veena is a SUPER HERO when it comes to customer support which explains her dedication to making the subject of upsells clear and actionable in this book.

Kenneth Schultz

easydslr.com
I have read Veena's book "Upsells Unleashed" cover to cover and she is spilling the beans on the most successful tactics she and her clients use to wring out every last dime using optimized and highly converting funnels.

Kevin Halbert

Halbertising.com