Membership site is a password protected site that will allow you to securely deliver different types of content. Your content is locked and users have to register to gain access.
The access could be in exchange for their email (opt-in) or for a fee. Users register to get in and you deliver the goods.
A membership site, when done right, can be a passive income generating machine!
A lot of people (even accomplished marketers) often refer to membership sites as a subscription income generating site – where members pay every payment cycle to claim access to new content and retain access to existing content.
It's not true!
Subscription is just one form of membership but you don't need to have a subscription product to launch a membership site.
There are several membership site models – free membership, one-time payment, fixed-term recurring payment and ongoing recurring (until cancellation).
There are many ways in which you can use a membership site. You can launch a membership site even if it's just to manage, secure and deliver your one-time products – free or paid.
Even if you have a simple PDF report that you want to offer for free when users signup to your list, you can use a membership site to protect and deliver the download. The users can login to download the content.
For ex  – I recently launched a FREE eBook on my membership site.
The prospects visit the site, click on the download button, sign up and receive login credentials in an email. When they login to their members area, they can download the FREE PDF.
I am using my membership software – DAP, to secure/protect and deliver the PDF. The access to content is locked up. It's only available to registered and logged-in members.  I don't sell any subscription products on this site but I am using my membership software to manage and automate everything – content protection, content delivery, email dripping, affiliate management, payment processing etc.
You can also use a membership site to deliver digital content that's not downloadable. The users can access the content only on your membership site. They cannot download it. This will prevent users from signing up, downloading all the content and then asking for a refund.
See this post to find out more about content dripping.
A good membership software will also allow you to deliver all products and content under a single login – even if a user purchases multiple products (core product, upsells etc) on your site.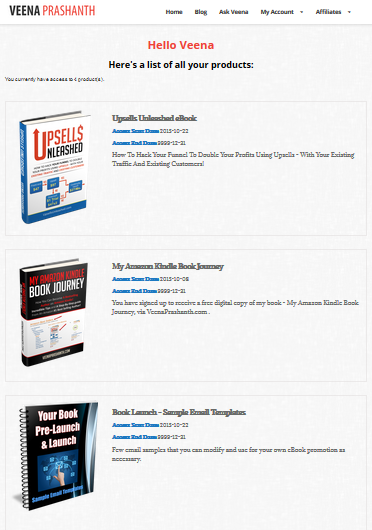 A membership platform like DAP gives you a complete end-to-end, content-delivery framework to create a membership site and securely deliver different types of content.
It's important to understand that a membership site is not just a subscription based site. There are several membership models. I will talk about different membership models in a different post.
If you want to receive an email from me whenever I release a new post like this, just click on the 'Click here to Subscribe'  button in the right sidebar to sign up.